April showers bring May…..BOOKS! We're got SOOOO many #YA releases in May, so let's get reading!
This slideshow requires JavaScript.
May 2nd
A Court of Wings and Ruin by Sarah J. Maas, May 2nd, Bloomsbury Childrens Books, 648 pages
Maas-heads rejoice! Book 3 in this action packed Fae saga continues.
Add to your Goodreads
Dreamfall (Dreamfall #1) by Amy Plum, May 2nd, HarperTeen, 288 pages
When a sleep study goes wrong, 7 teens find themselves trapped in a shared nightmare with no way to get out.
Add to your Goodreads
Kill All Happies by Rachel Cohen, May 2, Disney-Hyperion, 288 pages
It's graduation and Vic wants to say good-bye to high school and her soon to be closed favorite restaurant Happies. But in true Ferris Bueller fashion, a simple party gets blown to epic proportion.
Add to your Goodreads
Girl Out of Water by Laura Silverman, May 2nd, Sourcebooks Fire, 320 pages
When Anise's aunt gets into a car accident, Anise's summer plans of beach weekends and bonfires are washed away. Instead she's caring for her 3 cousins in Nebraska which is a world away from California.  But family bonding and a cute skater named Lincoln help Anise acclimate. Will Anise find her land-legs and put roots down in Nebraska? Or will she go back to her "real life" after summer ends?
Add to your Goodreads
Noteworthy by Riley Redgate, May 2nd, Amulet Books, 400 pages
In order to get into her school's elite a cappella group, female Jordan will have to transform into male Jordan. Deception never sounded so good!
Add to your Goodreads
And We're Off by Diana Schwartz, May 2nd, Razorbill, 288 pages
Nora's grandfather is giving her the gift of a summer in Europe, with the condition she create a work of art at each stop. With her love of art, this is the trip of a lifetime for Nora. But her mother is strongly against the idea. That is until mom decides to go with her.
Add to your Goodreads
Cold Summer by Gwen Cole, May 2nd, Sky Pony Press, 256 pages
"Today, he's a high school dropout with no future.
Tomorrow, he's a soldier in World War II."- Goodreads
Add to your Goodreads
Always and Forever, Lara Jean, by Jenny Han, May 2nd, Simon & Schuster for Young Readers, 336 pages
The Lara Jean series ends (again) with this surprise follow-up.
Add to your Goodreads
Just Dreaming (The Silver Trilogy) by Kerstin Grier, May 2, Henry Holt & Co., 320 page
"A dream traveler faces the greatest challenge she's yet encountered in this gripping third and final book of the Silver trilogy." Goodreads
Add to your Goodreads 
Count All Her Bones by April Henry, May 2, Henry Holt & Co, 240 pages
"Cheyenne sets out to save her former captor in this much-anticipated sequel to Girl, Stolen."- Goodreads
Add to your Goodreads
Avenged by Amy Tintera, May 2nd, HarperTeen, Page 416
"In the sequel to Ruined, the romance of The Selection and the epic stakes of Red Queen come together in a story of revenge, adventure, and unexpected love."- Goodreads
Add to your Goodreads 
How To Make A Wish by Ashley Herring Blake, HMH Books For Young Readers, 336 Pages
Grace just wants to normal life and to get through her last year of high school. But everything changes when Grave meets Eva, a girl with her own past, but who lets Grace imagine a different future.
Add to your Goodreads
Windfall by Jennifer E. Smith, May 2nd, Delacorte Press, 432 Pages
Giving your bestie a winning lottery ticket is a HUGE blessing…until it turns into a curse.
Add to your Goodreads
May 4th
Release by Patrick Ness, May 4th, Walker Books, 287 Pages
Ness's latest comes out May 4th in the UK, but US audiences will have to wait until September. Thank goodness for international shipping!
Add to your Goodreads
The Island At The End of Everything by Kiran Millwood Hargrave, May 4th, Chicken House, 288 pages
From the author of the bestselling tale The Girl of Ink & Stars comes a beautiful new adventure about finding your way home.
Add to your Goodreads
The Fallen Children by David Owen, May 4th, Atom, Page 240
Keisha has lived at Midwich Estate all her life.  Unlike some of the Midwich children, Keisha plan on escaping. But when everyone has a group blackout during which some of the girls become pregnant, things for Keisha go from desperate to dire.
Add to your Goodreads
May 9th
Ramona Blue by Julie Murphy, May 9th, Balzer + Bray, 432 Pages
The next anticipated release from the author of Dumplin', brings us Ramona, a girls from  small town Mississippi who learns that love, like water, can be fluid.
Add to your Goodreads
The Traitor's Kiss ( Traitors Trilogy #1) by Erin Beatty, May 9th, Imprint, 352 pages
"An obstinate girl who will not be married.
A soldier desperate to prove himself.
A kingdom on the brink of war."- Goodreads
Add to your Goodreads
It Started With Goodbye by Christina June, May 9th, Blink/HarperCollins, 305 pages
"Sixteen-year-old Tatum Elsea is bracing for the worst summer of her life. After being falsely accused of a crime, she's stuck under stepmother-imposed house arrest and her BFF's gone ghost. Tatum fills her newfound free time with community service by day and working at her covert graphic design business at night (which includes trading emails with a cute cello-playing client). When Tatum discovers she's not the only one in the house keeping secrets, she finds she has the chance to make amends with her family and friends. Equipped with a new perspective, and assisted by her feisty step-abuela-slash-fairy-godmother, Tatum is ready to start fresh and maybe even get her happy ending along the way."- Goodreads
Add to your Goodreads
It's Not Like It's A Secret by Misa Sugiura, May 9th, HarperTeen 400 Pages
"Telling the truth is easy… what comes after it, though, is a whole lot more complicated."-Goddreads
Add to your Goodreads
Umberland (Everland #2) by Wendy Spinale, May 9th, Scholastic Press, 288 Pages
"What began with a reimagining of Peter Pan and Wendy now twists into a stunning version of Alice's Adventures in Wonderland and Through the Looking-Glass!" Goodreads
Add to your Goodreads
The Duke of Bannerman Prep by Katie A. Nelson, May 9th, Sky Pony Press, 352 Pages
"Words are weapons. Facts can be manipulated. And nothing is absolute—especially right and wrong.
A contemporary retelling of The Great Gatsby, Katie Nelson's taut debut is perfect for fans of John Green's Looking for Alaska, Kate Brian's Private series, and anyone who's encountered the cut-throat world of competitive high school." –Goodreads
We're super excited for this release, especially since we're on the blog tour!
Add to your Goodreads
Brave New Girl by Rachel Vincent, May 9th, Delacorte Press, 272 Pages
"In a world where everyone is the same, one girl is the unthinkable: unique. A high-stakes fast-paced series launch from New York Times bestselling author Rachel Vincent." Goodreads
Add to your Goodreads
May 16th
The Love Interest by Cale Dietrich, May 16th, Feiwel & Friends, 384 Pages
Caden is nice. Dylan is not. One of these boys will break your heart…or die trying.
Add to your Goodreads
Names They Gave Us by Emery Lord, Bloomsbury USA Children, 400 Pages
Lucy's world is up-ended when her mother's cancer returns, her summer job at bible camp turns into working with troubled teens instead, and her boyfriend puts their relationship on "pause". Can Lucy rediscover herself and her faith before summer ends?
Add to your Goodreads
The Truth About Happily Ever After by Karole Cozzo, May 16th, Swoon Reads, 320 pages
"A theme park princess must put her life back together after her happily ever after falls apart in this contemporary YA romance from Karole Cozzo, author of How to Keep Rolling After a Fall and How to Say I Love You Out Loud." -Goodreads
Add to your Goodreads
A Flame in the Mist by Renee Ahdieh, May 16th, G.P. Putman's Sons Books for Young Readers, 368 pages
From the brilliant mind behind The Wrath and the Dawn, Ahdieh's newest series mixes samurai, poltical marriage and hidden identity.
Add to your Goodreads
Violet Grenade by Victoria Scott, May 16th, Entangled Teen, 300 pages
Domino is resuced from a life on the streets by Madam Karina. But the madam is not the savior she appears to be. But then again, Domino isn't the helpless girl the madam thinks she is.
Add to your Goodreads
The Crown's Fate (The Crown's Game #2) by Evelyn Skye, May 16th, Blazer + Bray, 400 Pages
We pick up where we left off in this intriguing continuation of The Crown's Game.
Add to your Goodreads
A Millions Junes by Emily Henry, Razorbill, 350 Pages
"Romeo and Juliet meets One Hundred Years of Solitude in Emily Henry's brilliant follow-up to The Love That Split the World, about the daughter and son of two long-feuding families who fall in love while trying to uncover the truth about the strange magic and harrowing curse that has plagued their bloodlines for generations." -Goodreads
Add to your Goodreads
Seeking Mansfield by Kate Watson, May 16th, Flux, 300 Pages
Finley has many talents, but her greatest one might be her ability to go unnoticed. She's content with working behind the scenes on school productions and with her bestie, Oliver. But when teen movies stars movie next door, Finley will have to take center stage if she wants to keep from losing Oliver.
Add to your Goodreads
Grit by Gillian French, May 16th, HarperTeen, 300 Pages
"Raw and moving, this contemporary realistic debut novel will leave readers of E. Lockhart and Gayle Forman breathless as it unflinchingly unfolds the tragic secrets being kept in a small, deceptively idyllic Maine town." -Goodreads
Add to your Goodreads
Antisocial by Jillian Blake, May 16, Delacorte Press, 256 Pages
"Alexandria Prep is hacked in this whodunit set in the age of social media and the cloud." Goodreads
Add to your Goodreads
Seeker (Riders #2) by Veronica Rossi, May 16th, Tor Teen, 352 Pages
"New York Times and USA Today bestselling author Veronica Rossi's new fantasy adventure in the Rider series—Seeker ." -Goodreads
Add to your Goodreads
May 30th
I Believe In A Thing Called Love by Maureen Goo, May 30th, Farra, Straus & Giroux, 336 pages
Desi excels at everything….except dating. When a super hot guy walks into her life, she decides it's time to study up on love. What does she use as her guide? The "K Drama Rules for True Love", of course! Armed with the advice from Korean soap opera. Desi is determined to conquer love at last.
Add to your Goodreads
Royal Bastards by Andrew Shvarts, Disney-Hyperion, 352 Pages
Being bastard born means knowing you will always be second best. But it just may take this band of bastards to save the kingdom from rebellion.
Add to your Goodreads
Romancing The Throne by Nadine Jolie Courtney, May 30th, Katherine Tegen Books, 400 Pages
"Scandal, secrets, and heartbreak abound in this juicy, modern girl-meets-prince story—perfect for fans of Stephanie Perkins and Jennifer E. Smith." -Goodreads
Add to your Goodreads
When It's Real by Erin Watt, Harlequin Teen, 384 Pages
"From #1 New York Times bestselling author duo Erin Watt comes the addictive contemporary tale of a teen rock star in need of an image makeover and the teen girl hired to be his fake girlfriend." -Goodreads
Add to your Goodreads
Juniper Lemon's Happiness Index by Julie Israel, May 30th, Kathy Dawson Books, 320 Pages
Juniper's sister Camilla died in a car accident 65 days ago. When Juniper finds a love letter written by her sister to a mystery person just before she died, Juniper sets out to find who the letter was intended for. But is Juniper prepared for what she may find (and loses) along with way?
Add to your Goodreads
One Of Us Is Lying by Karen M. McManus, May 30th, Delacorte Press, 368 Pages
"One of Us Is Lying is the story of what happens when five strangers walk into detention and only four walk out alive. Everyone is a suspect, and everyone has something to hide." -Goordreads
Add to your Goodreads
When Dimple Met Rishi by Sandhya Menon, May 30th, Simon Pulse, 320 Pages
We had LOTS to say about why you should read this book in our First Reads Friday post.
Add to your Goodreads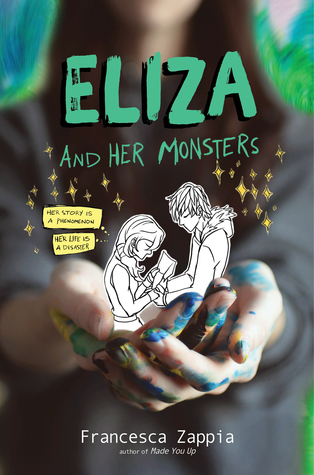 Eliza and her Monsters by Francesca Zappia, May 30, Greenwillow Books, 400 Pages
Eliza Mirk may be weird and quiet in the real world, but what her classmates don't know is that she has an online presence of epic proportion. She's the anonymous creator of the webcomic Monstrous Sea. Eliza likes her double life and has no intention of telling people in or her secret. But when her double identity is found out, things start to slip out of control.
Add to your Goodreads
This concludes our May One to Watch Books. Of course we can't include everything so if there's something you're excited about that we missed, let us know in the comments. See you next month and Happy Reading!
Ann-Eliza
Have you read all the April OTWB?
This slideshow requires JavaScript.