It's St. Patrick's Day, the one day of the year when no matter where you're from, you're Irish. What better way to celebrate than with books from the Emerald Isle? We have 7 books from Irish authors.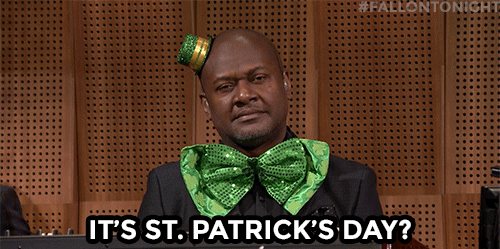 The Accident Season by Moira Fowley-Doyle

It's the accident season, the same time every year. Bones break, skin tears, bruises bloom.

The accident season has been part of seventeen-year-old Cara's life for as long as she can remember. Towards the end of October, foreshadowed by the deaths of many relatives before them, Cara's family becomes inexplicably accident-prone. They banish knives to locked drawers, cover sharp table edges with padding, switch off electrical items – but injuries follow wherever they go, and the accident season becomes an ever-growing obsession and fear.

But why are they so cursed? And how can they break free?
One By Sarah Crossan

Grace and Tippi are twins – conjoined twins. And their lives are about to change. No longer able to afford homeschooling, they must venture into the world – a world of stares, sneers and cruelty. Will they find more than that at school? Can they find real friends? And what about love? But what neither Grace or Tippi realises is that a heart-wrenching decision lies ahead. A decision that could tear them apart. One that will change their lives even more than they ever imagined…

From Carnegie Medal shortlisted author Sarah Crossan, this moving and beautifully crafted novel about identity, sisterhood and love ultimately asks one question: what does it mean to want and have a soulmate?
Asking For It by Louise O'Neil

It's the beginning of the summer in a small town in Ireland. Emma O'Donovan is eighteen years old, beautiful, happy, confident. One night, there's a party. Everyone is there. All eyes are on Emma.

The next morning, she wakes on the front porch of her house. She can't remember what happened, she doesn't know how she got there. She doesn't know why she's in pain. But everyone else does.

Photographs taken at the party show, in explicit detail, what happened to Emma that night. But sometimes people don't want to believe what is right in front of them, especially when the truth concerns the town's heroes…
The Call by Peadar O'Guilin

The Hunger Games meets horror in this unforgettable thriller where only one thing is certain . . . you will be Called.

Thousands of years ago, humans banished the Sidhe fairy race to another dimension. The beautiful, terrible Sidhe have stewed in a land of horrors ever since, plotting their revenge . . . and now their day has come.

Fourteen-year-old Nessa lives in a world where every teen will be "Called." It could come in the middle of the day, it could come deep in the night. But one instant she will be here, and the next she will wake up naked and alone in the Sidhe land. She will be spotted, hunted down, and brutally murdered. And she will be sent back in pieces by the Sidhe to the human world . . . unless she joins the rare few who survive for twenty-four hours and escape unscathed.

Nessa trains with her friends at an academy designed to maximize her chances at survival. But as the days tick by and her classmates go one by one, the threat of her Call lurks ever closer . . . and with it the threat of an even more insidious danger closer to home.
Spare and Found Parts by Sarah Maria Griffin

Nell Crane has always been an outsider. In a city devastated by an epidemic, where survivors are all missing parts—an arm, a leg, an eye—her father is the famed scientist who created the biomechanical limbs everyone now uses. But Nell is the only one whose mechanical piece is on the inside: her heart. Since the childhood operation, she has ticked. Like a clock, like a bomb. As her community rebuilds, everyone is expected to contribute to the society's good . . . but how can Nell live up to her father's revolutionary idea when she has none of her own?

Then she finds a mannequin hand while salvaging on the beach—the first boy's hand she's ever held—and inspiration strikes. Can Nell build her own companion in a world that fears advanced technology? The deeper she sinks into this plan, the more she learns about her city—and her father, who is hiding secret experiments of his own.
Unspoken by Sarah Rees Brennan

Kami Glass loves someone she's never met… a boy she's talked to in her head ever since she was born. She wasn't silent about her imaginary friend during her childhood, and is thus a bit of an outsider in her sleepy English town of Sorry-in-the-Vale. Still, Kami hasn't suffered too much from not fitting in. She has a best friend, runs the school newspaper, and is only occasionally caught talking to herself. Her life is in order, just the way she likes it, despite the voice in her head.

But all that changes when the Lynburns return.

The Lynburn family has owned the spectacular and sinister manor that overlooks Sorry-in-the-Vale for centuries. The mysterious twin sisters who abandoned their ancestral home a generation ago are back, along with their teenage sons, Jared and Ash, one of whom is eerily familiar to Kami. Kami is not one to shy away from the unknown—in fact, she's determined to find answers for all the questions Sorry-in-the-Vale is suddenly posing. Who is responsible for the bloody deeds in the depths of the woods? What is her own mother hiding? And now that her imaginary friend has become a real boy, does she still love him? Does she hate him? Can she trust him?
Flawed by Cecelia Ahern

Celestine North lives a perfect life. She's a model daughter and sister, she's well-liked by her classmates and teachers, and she's dating the impossibly charming Art Crevan.

But then Celestine encounters a situation where she makes an instinctive decision. She breaks a rule and now faces life-changing repercussions. She could be imprisoned. She could be branded. She could be found flawed.

In her breathtaking young adult debut, bestselling author Cecelia Ahern depicts a society where perfection is paramount and flaws lead to punishment. And where one young woman decides to take a stand that could cost her everything.
Ann-Eliza