Everyone knows the female of the species is more deadly than the male. That goes double when the female has revenge on her mind. Mindy McGinnis serves up a world of hurt in her latest novel, The Female of The Species.
From the book flap:
 Alex Craft knows how to kill someone. And she doesn't feel bad about it. When her older sister, Anna, was murdered three years ago and the killer walked free, Alex uncaged the language she knows best. The language of violence.
While her crime goes unpunished, Alex knows she can't be trusted among other people, even in her small hometown. She relegates herself to the shadows, a girl who goes unseen in plain sight, unremarkable in the high school hallways.
But Jack Fisher sees her. He's the guy all other guys want to be: the star athlete gunning for valedictorian with the prom queen on his arm. Guilt over the role he played the night Anna's body was discovered hasn't let him forget Alex over the years, and now her green eyes amid a constellation of freckles have his attention. He doesn't want to only see Alex Craft; he wants to know her.
So does Peekay, the preacher's kid, a girl whose identity is entangled with her dad's job, though that does not stop her from knowing the taste of beer or missing the touch of her ex-boyfriend. When Peekay and Alex start working together at the animal shelter, a friendship forms and Alex's protective nature extends to more than just the dogs and cats they care for.
Circumstances bring Alex, Jack, and Peekay together as their senior year unfolds. While partying one night, Alex's darker nature breaks out, setting the teens on a collision course that will change their lives forever.
Overall:  Let me start this review with a disclaimer: this is NOT an easy read.
An entertaining read? Yes.
A complex read? You bet.
An important read? Defintely!
Easy? NO.
"This is how I kill someone." From the first line of Mindy McGinnis's latest novel you know you've been hooked into something you can't easily let go of. McGinnis is dealing with some trigger topics here: sexual assault, rape culture, violence, animal cruelty….But McGinnis handles theses issues like a master painter with a palette of paint. There are no clumsy unnecessary strokes, no harsh lines without meaning. The parts of McGinnis's novel that are difficult to read are there for a reason. The pain is necessary.  The characters are developed, the story is compelling, the writing is rich. Knowing what I was in for I had a hard time picking up The Female Of The Species, but once I did it was even harder to put it down.
Judge a Book by its Cover: This is a cover that begs to be read. Among a large stack of books, this chartreuse spine kept calling to me.  I'm glad I answered the call, even if it felt like this: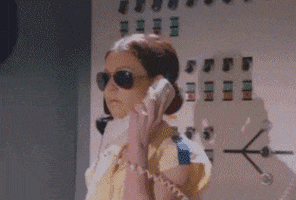 Me Talk Pretty: The Female of the Species is told from a 3-person POV: Alex is tough and an expert at going unnoticed, Jack is the star athlete who is no stranger to the spotlight and Peekay, the preacher's kid who is eager to please. These 3 high school seniors have practically nothing in common until circumstance and their small town throw them together.
See if you can guess who said what:
"It's a good thing I have a job where your mind can be elsewhere. In fact, it's better that way. Because I kill things for a living."

"Define success." "I didn't kill anyone today."

"The softest parts of my skin are under a stranger's dirty fingernail, my DNA embedded there along with fast food grease and his own dandruff. "
Kick-Ass Factor: "This is how I kill someone." These are Alex's opening lines and they set the tone for the rest of the story. Alex's sister is brutally killed at the beginning of The Female of the Species and this one senseless act reverberates throughout the lives of their small community. Violence begets violence  and the bar has been set high.
Body Count: The body count starts with Alex's sister at the beginning of the story, but it doesn't end there. That's all I'm saying.
Just. Why. There is one scene involving a piece of male jewelry that I had a hard time believing, but only because the jewelry in question is hideous.
Don't Believe the Hype: People are definitely buzzing about this book and with good cause.
"A very difficult read and some of its early chapters left me reeling. I confess I went into this book expecting a feminist, Dexter-esque, wish-fulfillment experience, and I was here for it. Instead, I got a painful, complicated, ultimately redeeming story about the insidiousness of rape culture and what it takes to dismantle it." -Leigh Bardugo
"This book is intense. Stark. And so beautifully written. Partway through I whispered to myself, "This girl might be a monster and I love her." -Jodi Meadows
Open tab/Last call: As with her previous novels, Mindy McGinnis has proved her ability to write from places of both light and dark beautifully. We've got a nice quiet spot in the woods and a cooler of beer whenever you're ready Mindy.
Ann-Eliza
The Female of the Species by Mindy McGinnis releases September 20th. Katherine Tegen Books, 352 pages.
Want more books by Mindy McGinnis? Check out our review of A Madness So Discreet