The white raven has finally arrived and that means Winter Is Here. And by winter we mean the many, many, many months until Season 7 airs in spring of 2017. If you're still craving politics, magic, betrayal and of course dragons, we've got some book recs to help you through the bleak months ahead.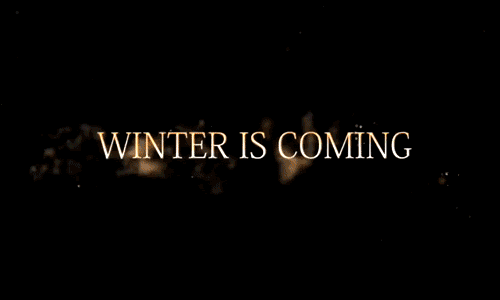 Seraphina / Dragon Scale by Rachel Hartman

Daenerys may be the mother of dragons, but Seraphina is much more. This duology includes human/dragon politics, mystery and an epic conflict.
Uprooted by Naomi Novik

Uprooted by Naomi Novik

In Naomi Novik's Uprooted, a young girl named Agnieszka is taken from her village to serve in the castle of a Dragon. Not unlike Sansa and Arya leaving the North for life in Westero, Agnieszka finds that she will need to use her wits and cunning if she's to survive life with a dragon.

See why Uprooted made our 2015 Best Of list.
The Girl of Fire and Thorns Trilogy by Rae Carson

"Once a century, one person is chosen for greatness. Elisa is the chosen one. But she is also the younger of two princesses. The one who has never done anything remarkable, and can't see how she ever will. Now, on her sixteenth birthday, she has become the secret wife of a handsome and worldly king—a king whose country is in turmoil. A king who needs her to be the chosen one, not a failure of a princess."

This series has magic, curses, prophecy, adventure and intrigue. It will surely keep you occupied, but not for long because you'll probably rip through all three books in about a week like I did.
The Abhorsen Trilogy by Garth Nix

No one does fantasy like Garth Nix, not even George R.R. himself. Nix's classic series is set in a world of magical charters that keep the living safe from the dead. Only ones trained in using magical bells, those known as Abhorsens, can breach the land of the dead. When Sabriel's father, a skilled Abhorsen, goes missing, she sets upon a quest to find him. So begins Garth Nix's epic fantasy tale.

If you think Arya Stark is a bad-ass, you'll love Sabriel!

*The audiobooks are read by the legendary Tim Curry and they are perfection!
The Mistborn Trilogy by Brandon Sanderson

What if the Chose One fails? That's the premise in the beginning of Brandon Sanderson's fantasy series, Mistborn. For 1,000 years the Skaa people have lived under the reign of the Dark Lord. With hope buried under 1,000 years of oppression, it seemed nothing would change. Until a orphan named Kelsier snapped and found in himself a long dormant power, the power of the Mistborn. Now Kel will try to do the impossible, defeat the Dark Lord and bring the Skaa back into the light.

Much like Daenerys Targaryen tapping into her roots and hatching dragon, Kel must find the his inner Mistborn if he's to survive.
The Captive Prince Trilogy by C.S. Pacat

Those of you who were more interested in what was going on with Little Finger and the brothels of  Westeros will love the Captive Prince Trilogy. Prince Damen has his identity striped and is sold to the prince of a rival nation as a sex slave. These two princes wrestle for power and survival on the battle field and between the sheets.
Throne of Glass Series by Sarah J. Maas

If Daenrys and Arya had a baby, she'd be Celaena Sardothien. Calaena is a trained assassin, called to the palace (from JAIL) to participate in a tournament …to the death. Throne of Glass is book one in Maas's epic saga that involves, deceit, danger, king making, magic and a whole lot of Calaena kicking ass!
Shadow and Bone (The Grisha Trilogy) by Leigh Bardugo

Leigh Bardugo is one of the greatest modern fantasy storytellers. Her stories are vivid, and complex and the worlds she creates are magical. In The Grisha Trilogy, Bardugo introduces us to the once great nation of Ravka, on the verge of destruction and Alina Starkov, a girl who may habe the dormant power to make Ravka great again. That is if she can stay alive.
A Game of Throne (A Song of Fire and Ice Book 1) by George R.R. Martin

I know, this may seem like an obvious choice for this list, but how many people have actually read the books that sparked the series? While the HBO original series can certainly stand all by its self, the books have something to offer. Martin cares not for word count and most of his books are in excess of 1,000 pages. With room to write, the books have content, backstory and description you can't fit into 10 viewing hours per season. If you start reading now, you should be caught up by the time GoT returns in March. But you better hurry…Winter Is Here.

Ann-Eliza